The platform began its life under a different name. Created in 2014 as Music.ly and later shut down and merged into TikTok in 2018 by ByteDance. Music.ly's main selling point was that it allowed users to lip sync along to their favourite songs partnered with their own visual content. The introduction of TikTok brought improved functionalities and offerings, users can now discover a wide range of content from lifestyle and entertainment to culinary content and business tips. The app runs based on algorithms ensuring that users come across favourable content.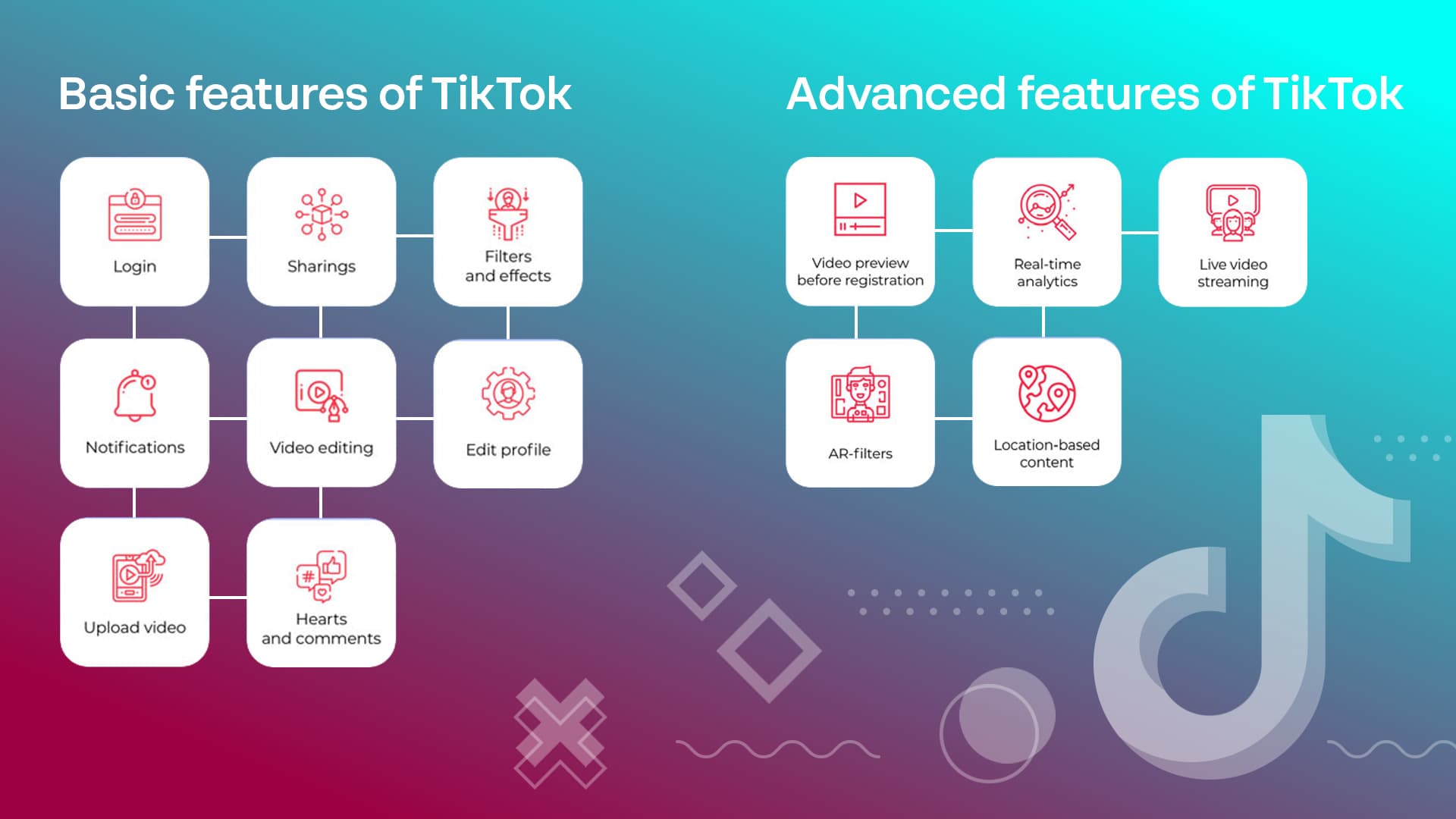 TikTok Functionality
On TikTok, users can choose from a variety of video lengths from 15 seconds to 3-minute and can select the level of privacy to apply to their content. The platform offers the option to set videos to 'private' allowing only the user to view, 'friends only' allowing mutual followers to view, or 'public' meaning any user across the globe could be amongst your potential viewers. TikTok also maintains a separate app for the Chinese market, known as Duyin, which has over 300 million active monthly users.
Furthermore, TikTok offers users a multitude of filter and editing features, allowing users to apply lenses, change colours, and add transition moves to content. As of course what would a social media app be, in today's world, without the filter options? Another remarkable feature to check out is 'Stitch and Duet', providing users with alternative modes of interaction in the platform, enabling them to add reviews and provide feedback to viewed content.
Popularity Boom
Since its launch, TikTok's popularity has achieved tremendous growth. In October 2018, it was the most-downloaded photo and video app in the Apple store on a global scale. And this didn't stop there, TikTok's popularity is increasing year over year, with downloads climbing from 693 million in 2019 to 850 million in 2020. It is fair to say that TikTok's esteem is spreading rapidly, recent data shows that eight new users register on the app every second, with an average of 650,000 new users joining daily.
Game Changer for Small Business
The emergence of TikTok as a mainstream social media platform has presented a new opportunity for early adopter brands, with those already utilising the platform achieving surprising results. These results can likely be attributed to the increasingly video hungry world that the digital industry is witnessing, as TikTok is considered the leading destination for short form mobile videos.
The 2020 Wyzowl's State of Video Marketing Report demonstrates this growth, with an increase in the number of businesses using video marketing tools, from 61% in 2016 to 85% in 2020. Move over, consumers reportedly watch 16 hours of online videos per week, which has increased from 52% since 2018, and doesn't look like it is slowing down any time soon.
For businesses looking to harness the growing power of video marketing TikTok is definitely the place to start. Whether you are a big or small company, advertising products and services, TikTok offers the opportunity to see immediate results from simply posting a video between 15-60 seconds, the trick is to find the sweet spot between entertaining and informative content, and watch the views roll in. Producing the videos costs almost nothing, just a smartphone, and some innovative ideas can get the ball rolling. Furthermore, those companies that are willing to use humour within their marketing have the highest traction potential on the platform. Utilising platforms such as TikTok, over traditional forms of advertising, is also considered more environmentally friendly, thus allowing creators to reinvent themselves without harming the planet.
TikTok is not only at the forefront of the growing video trend witnessed throughout the digital ecosystem, but it has also proven hugely impactful for initiating and highlighting new social media fads and movements. It takes a matter of hour for videos to become viral on TikTok, take trends such 'have you seen that garlic' or 'bounce with it', started as mere video clips posted by a user, but once the public began interacting with these videos and reposting their own, the trend train was in full motion. Moreover, TikTok has also created positive cross platform results. Spotify for example benefitted from the TikTok trend train, with the release of Olivia Rodrigo her first song, 'Driver's License' in January 2020, the song was featured on a TikTok trend upon its release, and within only three days it had broken Spotify's record for most streams in a single day (15.17m). Following this in 2021, Olivia released her first album 'Sour', which again due to the traction of the TikTok trend, is now Spotify's Most-Streamed Album of 2021.
In addition to the simple functionality of TikTok, it is one of the few platforms that can generate money for its users. TikTok' partnership program 'TikTok Creator Fund' provides an incentive for users to create a full time job through the platform. In order to apply for the Fund, the user must be over 18 years old, meet a baseline of 10,000 followers and have accumulated at least 100,000 video views within 30 days. Imagine the amount of time these users are then spending on the platform, hoping to make it a source of full time employment, seems like a huge untapped audience pool to me.
Advertiser Benefits
TikTok advertising is actually the most efficient way to ensure product advertisements reach the intended audience, as the platform itself functions on the basis of recommendations. Whether you are targeting the travel bugs, skin care enthusiasts, or baking guru's, TikTok will help you get there, as the platform encourages interactions between like minded users, encouraging likes, comments, and shares, thus leading to increased exposure. For example, take brands such as Estee Lauder and Clinique, when posting their content TikTok will automatically direct to the 'for you page' for users that have shown interest in skincare and beauty products. Additionally, the 'for you page' is not limited to age, interests, or geographic location, and therefore is the perfect platform for companies and services wanting to carve out a name for themselves on a global scale.
There are a multitude of ways to advertise on TikTok, as the types of content vary across the globe, Shuttlerock provides five top examples to get those creative juices flowing. One thing is clear, the benefits of using TikTok advertising appear to be growing year over year, and we believe it is time for you to find out how to tap into this opportunity. Join the future of video advertising with TikTok today.
Other thought leadership
All thought leadership